A Cruise to the Galapagos Islands is a very important decision due to a trip such as this, have a high price, however, small cruises vs. large cruise ships, what is the best option for your trip? In this post, you will discover it.
We've not forgotten! that the main reasons to take a trip to this wonderful "natural laboratory", are to observe its unique species in the world and to visit those magical places that have never been inhabited by man and that can only be accessed on a cruise ship, such as It was done by the famous naturalist Charles Darwin over 100 years ago.
Choosing the best cruise option can be a bit complex and perhaps you can get frustrated, as there is a high demand for cruises on the islands on the Internet. According to the Galapagos National Park, there are around 70 registered tourist boats.
Therefore, we decided to write this post, so that you know 3 important aspects that, according to our experts, will help you choose the best option to explore this beautiful archipelago, either aboard a small or large cruise ship.
1. EXCLUSIVITY AND PERSONALIZED SERVICE
Don't let the size fool you! On a small cruise, you will find comfortable and cozy facilities with everything you need to enjoy and relax, as well as exclusive social areas designed so you can interact with other fellow travelers or even better get to know more about the crew members, all this combined with a personalized service that is only for 16 guests.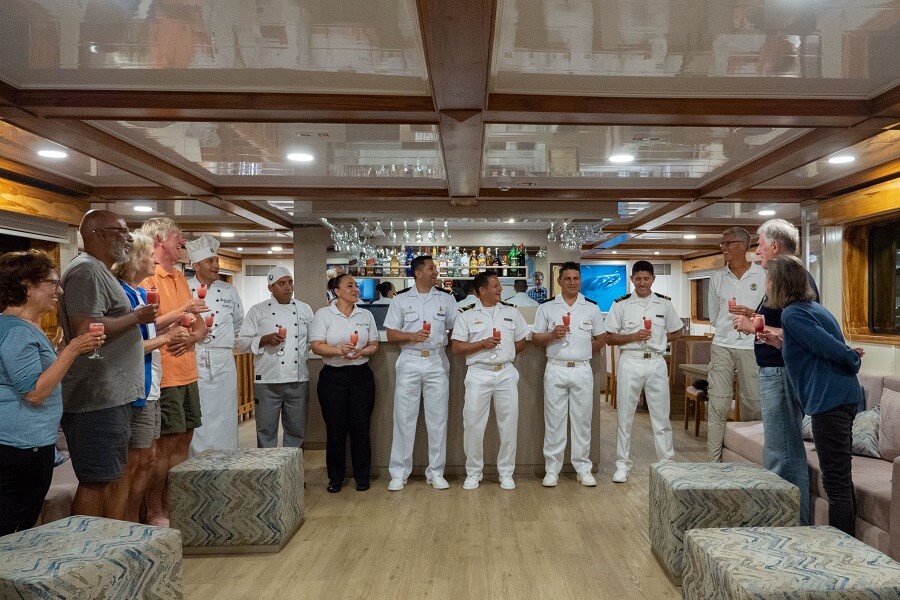 On the other hand, in a large cruise ship, its facilities have been designed to complement the entertainment of up to 100 passengers on board, so personalized service will be limited, perhaps this is also a reason why it may cost you a little less to interact with other traveling companions and much more with the crew.
If you would like to read more about our new biosecurity protocols, please click here
2. FLEXIBLE ACTIVITIES AND TRUE EXPERIENCES
On a small cruise, you will be part of a group of only 16 passengers, so getting involved in your experience and enjoying it to the fullest will not be a problem, just like participating in personalized information sessions every night, in which a bilingual naturalist guide will be ready to resolve all your concerns. Activities can be a little more flexible, for instance, if the group wants to extend a snorkeling session or walk for a little longer, it is possible. Even if after a long day of expedition the group wishes to rest an additional half-hour in the morning, the captain could authorize it.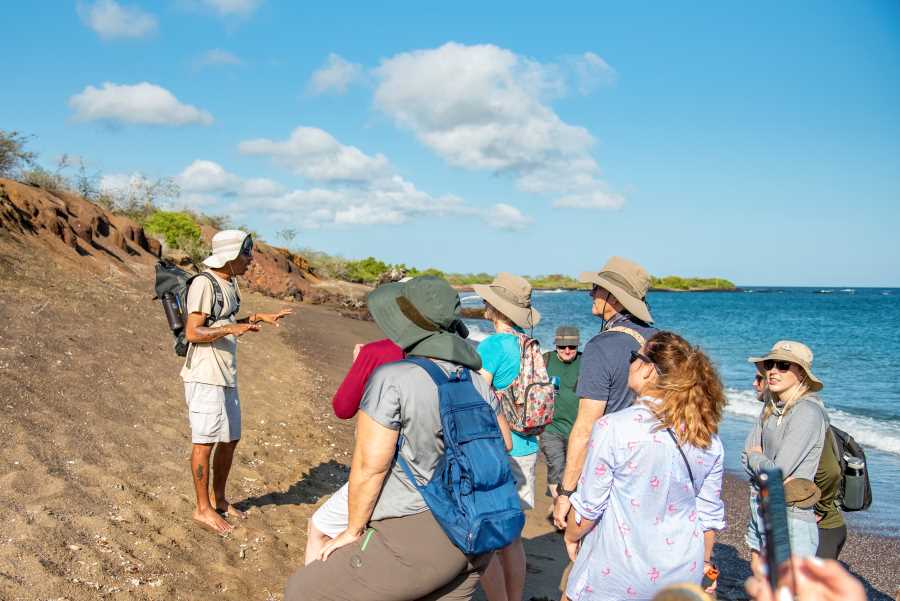 On the other hand, in a large cruise ship with 100 passengers there should be 1 naturalist guide per every 16 passengers, it means, during your entire expedition you will have about 5 different naturalist guides since each one will carry out different daily activities, which is why it may cost you one Little to get involved in the experience and build trust with your guide. In these cruises, the schedules are exact and cannot be postponed.
Small cruises undoubtedly leave a smaller ecological footprint in all aspects, because they consume between 25% and 30% less fuel per passenger on average per week compared to large cruises, translated into CO2 emissions means that a small cruise ship emits 179,000 kg less of average CO2 per year for every 16 passengers than a large ship.
WHAT IS THE BEST OPTION FOR ME, IF I WANT A PERSONALIZED EXPERIENCE AND A RESPONSIBLE VISIT TO THE ARCHIPELAGO?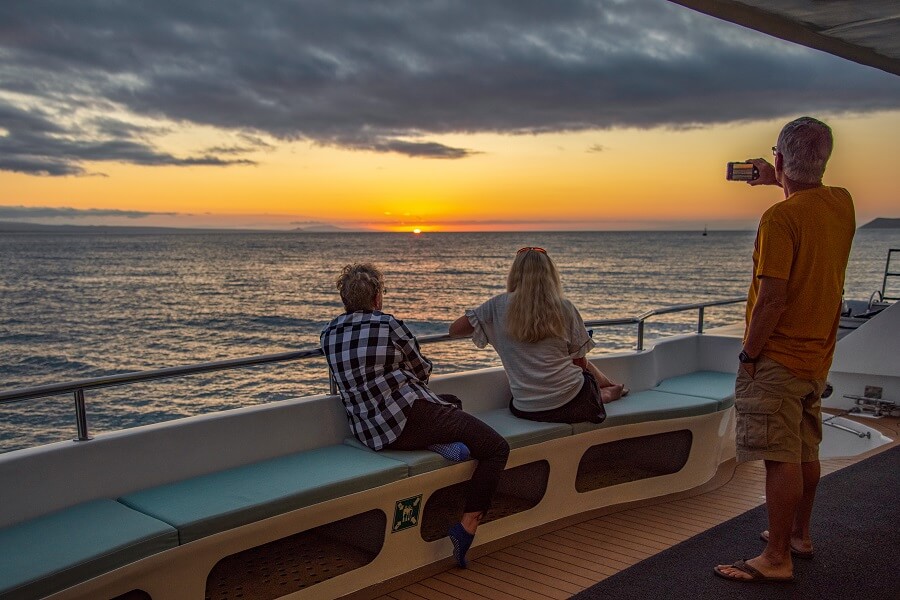 A trip to the Galapagos Islands really is a very special occasion, so a small cruise is our recommendation. Onboard one of them you can enjoy a personalized experience, without difficulties or setbacks, where you can make new friends and make the most of such a magical place, that you will never forget it and above all, you will know that your visit is responsible with the care of its ecosystem.
DON'T STOP YOUR WANDERLUST!
 Discover our vessels in the Galapagos Islands! Click here.